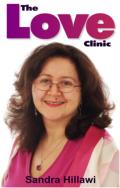 EVERY woman - old or young! - NEEDS THIS BOOK: The Love Clinic by Sandra Hillawi. Don't let the title of "clinic" put you off - there's nothing clinical about this book. It's pure magic. You want love spells? This book is full of them. Only they're called techniques not spells, as to not put the average muppet in the street off of buying this book. This book spells the end of "being at the mercy of men" in every way you can imagine.
Love pain? Here's how to heal it. For real. QUICKLY. And forever. Going mad with jealousy? Not a problem any more ... Stuck in a crush? Here's how to get out, get on, and have fun with NEW men.
Need to increase your X-Factor to attract adoration, attention, love and devotion? Yeah, that's in here too. Am I kidding?